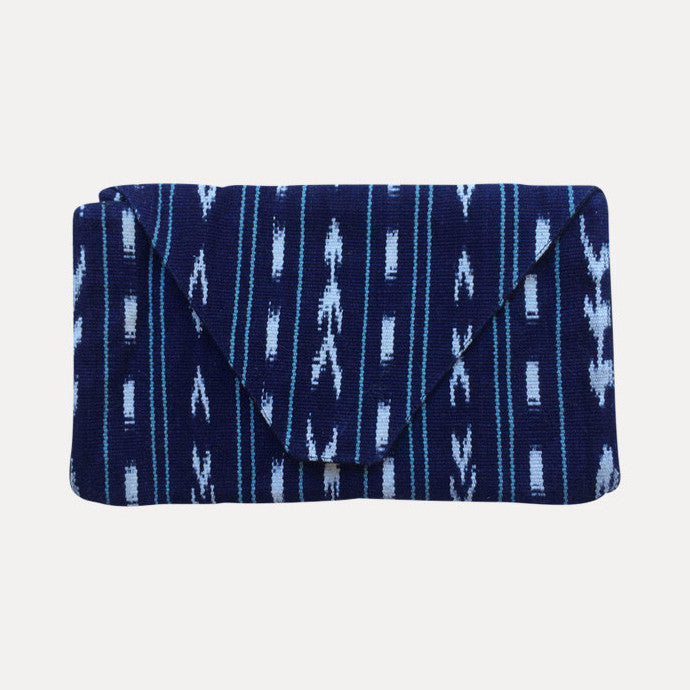 Envelope Clutch: California Indigo
This classic envelope clutch, complete with removable wristlet, back zipper pouch, and inner credit card slots, is a Malena Collection exclusive design! Handcrafted in Guatemala, from beautiful handwoven textiles, this slim, soft, and sleek purse is the perfect addition to any day or evening. We named this beauty after one of our favorite places to indulge our wanderlust.
Our Guatemalan artisan partners preserve traditional Maya heritage and art with modern designs, and each purchase empowers the female artisans who craft these purses by hand. The community includes over 120 indigenous women, and their mission is to empower and improve the quality of life for Maya women artisans and their families, and to contribute to the preservation and promotion of traditional knowledge, art, and culture in Guatemala. To do so, the women artisans and their families are offered education-driven social programs and market access to International Fair Trade and artisanal networks, with a focus on traditional Maya culture and traditions.
MATERIALS: Guatemalan textiles and metal hardware (for wristlet, closure, and zippers).
SIZE: Approximately 9.5"L by 6"W
NOTE: As these are handmade textiles, each clutch will have a slightly different variation of the pattern, and is therefore one of a kind!
Made by: Maya Traditions
Sold Out
This item is out of stock,
click the "sold out" button to sign up for the waitlist.